Air Duct Cleaning, HVAC Service, Air Conditioning Service and Air Conditioning Repair in Bonita Springs, Estero, Fort Myers, LaBelle, Lehigh Acres, Naples, FL, and Surrounding Areas
Airworks Cooling and Heating takes pride in providing professional service with integrity in the maintenance, repair, sale and installation of HVAC systems throughout Florida. With nearly a century of combined HVAC experience, Airworks technicians have the skill and professional training to get the job done efficiently, effectively and affordably. Airworks serves residential and commercial clients throughout Naples, Bonita Springs and the majority of Southwest Florida, delivering comfort with integrity.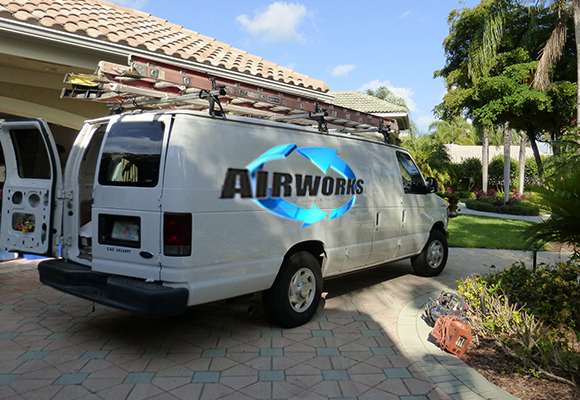 AC Installation
A Reputation for Quality Getting it right the first time, every time
Homeowners, businesses and contractors throughout Southwest Florida have come to trust the professionals at Airworks Heating and Cooling to deliver more than a quick fix. We know that our reputation depends on the satisfaction of clients just like you. That's why we go out of our way to provide solutions that are tailored to your specific needs. By taking the time to learn about your needs, Airworks technicians provide cost-effective solutions that meet them. Today's high-efficiency systems deliver money-saving performance, using less energy to achieve peak efficiency. That means lower energy costs throughout the many years of service you get with the high-quality AC systems installed by Airworks Heating and Cooling.
HVAC Service & Air Duct Cleaning
Your Full-Service Heating &
Cooling Solution Everything you need, provided by Airworks Cooling & Heating
From new system installations to ongoing maintenance, Airworks handles it all…and a whole lot more. When it comes to the comfort of your home or business location, Airworks offers all the services necessary to maintain a comfortable environment. In addition to air conditioning and heating systems, Airworks is equally skilled in air purification, and air duct cleaning, ensuring everybody enjoys a healthy living space. We can handle all your ductwork for new construction, renovations, room additions and old ductwork replacement. And when it comes to finding a company that can handle the repairs on your system, Airworks is the only name you need to know. We service ALL makes and models.


Air Conditioning Service
Services Designed with Comfort AND Convenience in Mind
Airworks Cooling and Heating takes our commitment to comfort seriously. We believe that maintaining a comfortable environment goes beyond temperature and air quality control. The convenience of smart home systems allows you to automate and/or control so many of the things you use every day. Turn lights on and off, allow or deny entrance to your home, adjust your thermostat and even monitor your home with video from virtually anywhere you are using a smart phone or IOS device. You'll be amazed at how comfortable and convenient your home can be with a smart home system from Airworks Cooling and Heating.
WHAT OUR CUSTOMERS ARE SAYING
"The staff and technicians at Airworks Cooling & Heating know what they are doing when it comes to high-quality and dependable air conditioning installation and smart home integration. I'll recommend Airworks to all my fellow homeowners in South Florida!"

"They do an exceptional job and get the work done fast and efficient. Both owners care about their customers and have excellent prices. I wouldn't use any other company!."

"Would recommend this company to family and friends, the job they did replacing my central air was and is exceptional, pricing was reasonable and the work is first rate. John and Stan are a pleasure to work with customer oriented ...

"Thanks John and team for your dedication to making sure I had what I needed!! You are all amazing!!"
READ MORE
Call Airworks Cooling and Heating for
Smart Home Systems
And much more…