About Air Duct Cleaning, HVAC Repair, AC Service and AC Maintenance in LaBelle, Lehigh Acres, Naples, Bonita Springs, Estero, Fort Myers, FL, and Surrounding Areas
We're here when you need us
You can schedule maintenance work on your HVAC system…but what do you do after normal business hours? The pros at Airworks understand that 'normal' business hours don't apply when temperatures and frustration runs high and your air conditioning system refuses to cooperate. That's why we offer 24-hour emergency service each and every day of the year. It's good to know that should an HVAC emergency occur, the professionals at Airworks Cooling & Heating will be there when you need us.
An Open Letter from the Owners
We started in this industry as HVAC technicians. Throughout our careers, we've both witnessed the difference between typical service and great service. We learned that the most important judge of the quality of the customer service we provide should always be the customer. With many HVAC companies, there is a disconnect between the company decision-makers and the customer. It's hard for technicians to make decisions that positively impact the customer when they don't feel empowered. At Airworks, our technicians work for our customers. We learned many years ago that when you put the customer first, everything else falls into place. Our technicians have the ability to make decisions that benefit you so you never have to worry about getting the service you deserve. They never have to ask permission to do the right thing. And to make sure things run the way we envisioned, we're still servicing clients ourselves. At Airworks Cooling and Heating, we don't ask for your trust. We earn it. 
Sincerely,
Stan MacNevin& John Tubbs
Founders, Airworks Cooling & Heating Inc.
Air Duct Cleaning & Air Conditioning Service
Trained to Serve
Professional commitment requires a level of dedication and sacrifice and a willingness to learn. The technicians of Airworks Cooling & Heating have received extensive training in the installation, repair and maintenance of HVAC systems. Our technicians undergo continuous education, ensuring they're always up to date on the latest industry changes and equipment advancements in order to provide world-class service on all makes and models.
When our technicians arrive at your home or business, you'll know they are representatives of Airworks by their uniforms featuring our company logo. Our service trucks are also easily identifiable for your safety and peace of mind.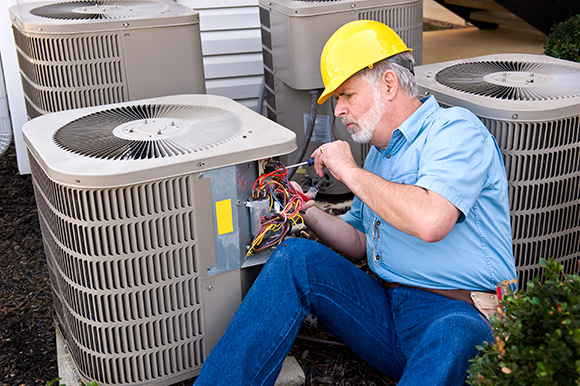 Air Conditioner Sales
Selling the Best
There are many different manufacturers of cooling and heating systems, each with specific advantages, depending on the application for which they'll be used. At Airworks Cooling and Heating, we take pride in being able to offer you most any brand of HVAC system. We'll take the time to discuss your needs and provide a cost comparison so you can make an informed decision. Choosing the right system today will save you money in operating costs for years to come. You can trust the professionals of Airworks Cooling and Heating to provide the assistance you need to choose the most cost-efficient and effective system.